It occurred to me today, that other than one or two friends of mine, not many people have ever actually seen how I work.  Or, more importantly, what goes in to drawing a fully colored comic book page/illustration.
Now, all artists have their own ways of going about this.  My method has been tailored around how my brain works, and thus, probably totally inefficient.  So either this will be an illuminating tutorial, or a dark journey into the mind of an art goblin.
First things first, I draw all of my comics on a computer using a Wacom tablet.  For artwork, I prefer to use Corel Painter with some Photoshop.  I know Photoshop is the standard, but I really feel that Painter is better at replicating natural media.

The drawing I'm making is a portrait of The Brickston Scooter Club.  It's been a long time since I'd drawn these characters, and have recently redesigned Riley Doogan (the boy sitting and eating a sandwich). 
So my mission with this drawing is to
1.) Re-familiarize myself with the characters, using a common setting found in the book.
2.)  See how well Riley's new look and color scheme "hangs" with the rest of the group.

Step 1:  Pencils
The most important step.  This is where I figure out things like composition, proportion, and the overall mood of the piece.  I was having a difficult time finding a heroic pose for Riley…so I gave him a sandwich instead.  Since this peace is about artistic exploration, I'm not so concerned about the "story" here…I just wanted to throw a bunch of interesting "Brickstony" stuff in there.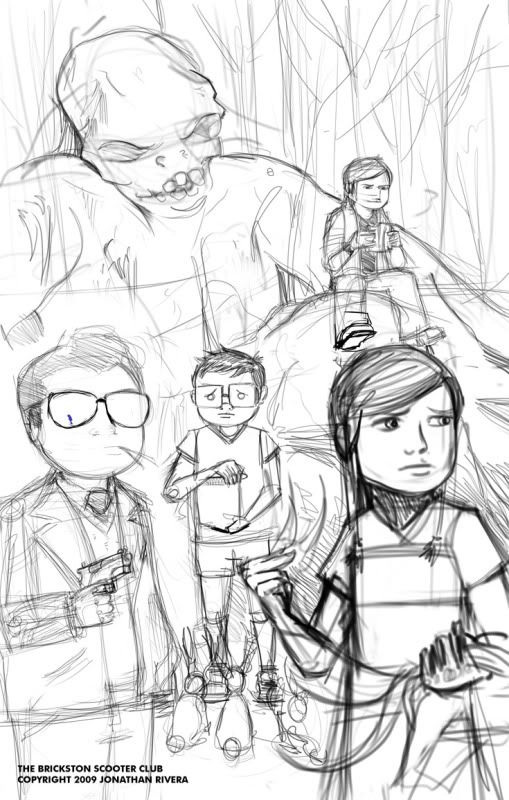 Step 2:  Ink
Here I lower the opacity of the pencil layer (most art programs use a system of "layers", think of them as clear plastic sheets laid one over the other…and when combined form a single image.)
This ads form and depth to the drawings.  Normally this is also where I would figure out most of the shadows.  But as a stylistic choice, Brickston illustrations don't really use too many heavy blacks.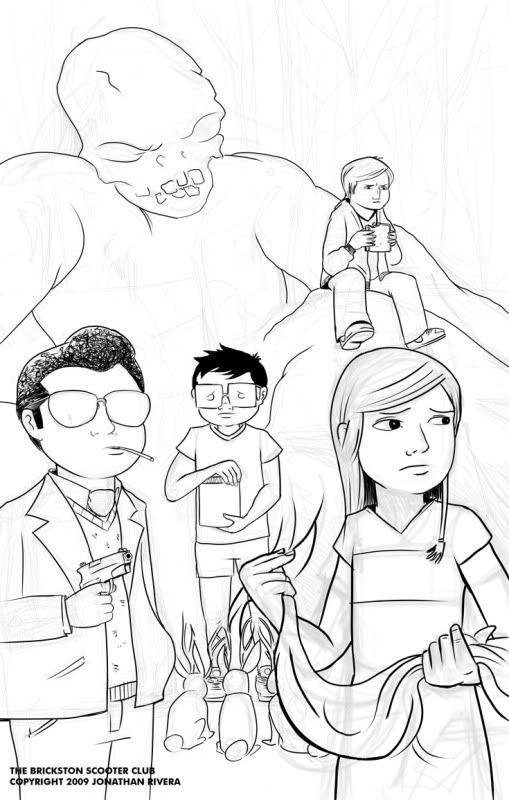 Step 3:  "Flat" Colors
This is a process I use, which I refer to as "Flat Colors".  I am a pretty indecisive colorist sometimes…so rather than choose the colors as I fill in the drawing…I fill in the drawing first.
The colors are ugly and have no meaning other than to help me visually separate the layers I will be working on (six colors here means i'm working on six layers) .  I also use very dark colors, because it helps me make sure I didn't miss a spot.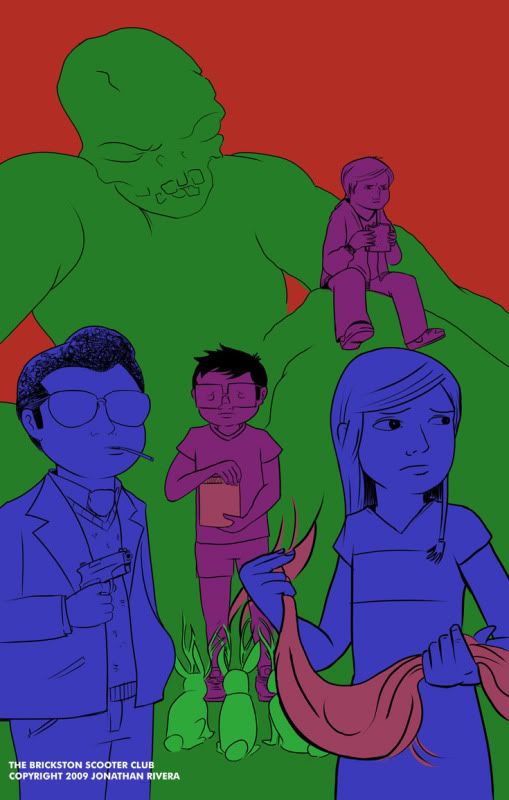 Now I select "preserve transparency" (or "lock transparent layers" in Photoshop).  This allows me to paint over ONLY the parts of the layer I have previously painted over.  Here is an example of what I mean.
The first drawing has no "lock" on it…so the light blue scribble over Amelia goes all over the place.   The second drawing has the "lock", and so you see that my scribble only effects the dark blue color…you can even see that Cedric got a bit of scribble on him as well.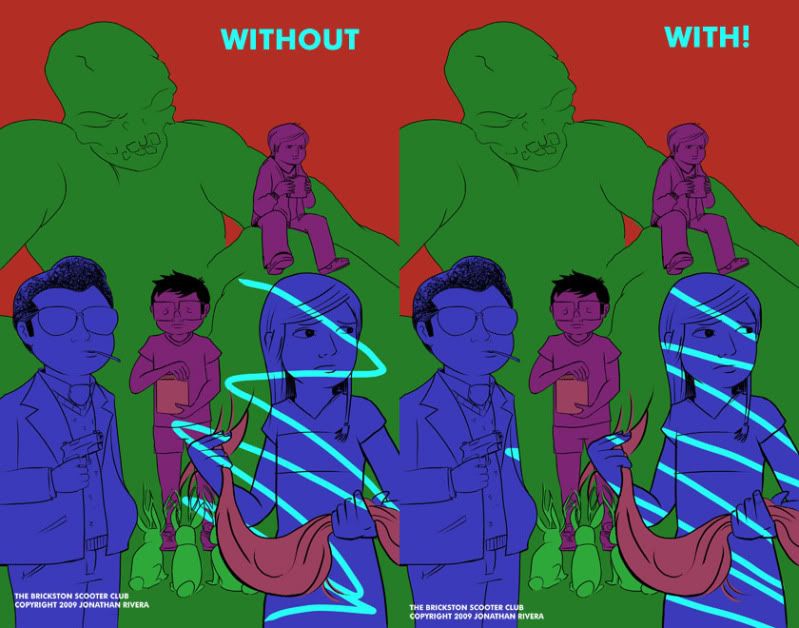 This process saves me a lot of time and frustration if I need to go back and fix something, and also allows me more freedom in my paint strokes later on.
Step 3 (continued):  "Hero" Colors
So using my locks I begin to color in our characters using what is referred to as "Hero Colors"…not just because these are our heroes…but because these colors are always associated with the main characters. 
Also I begin to select some of the tones for the backround, which at this point only consists of the mud-colored dead Golem, and the sky (which I had predetermined would be some kind of sunset shade).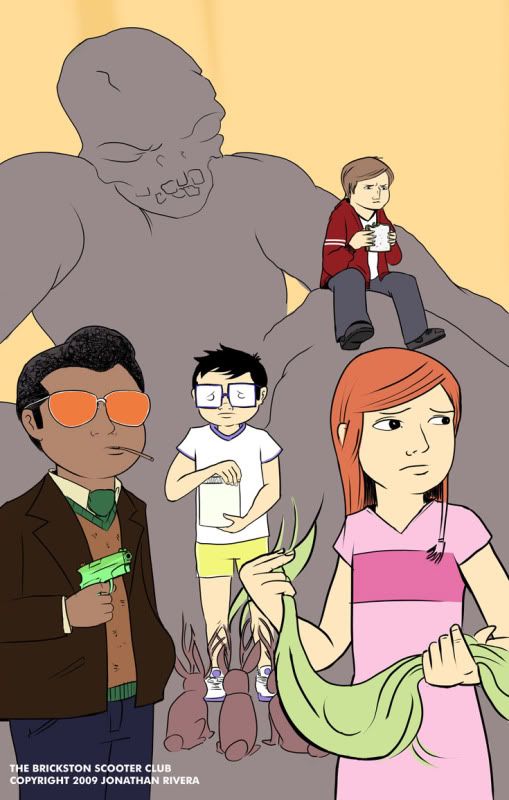 Step 4: Details
So now the Golem in the background is starting to take shape.  I've also added trees to the background and midground. 
Some new details include the always intended rocks behind the Golem.  Although at this point I've decided to put a rock in front of him as well.  Not so much to protect the Golem's muddy-modesty…but to frame Darbus and make him "pop" a little more.  All of these additions also add a sense of depth to the composition.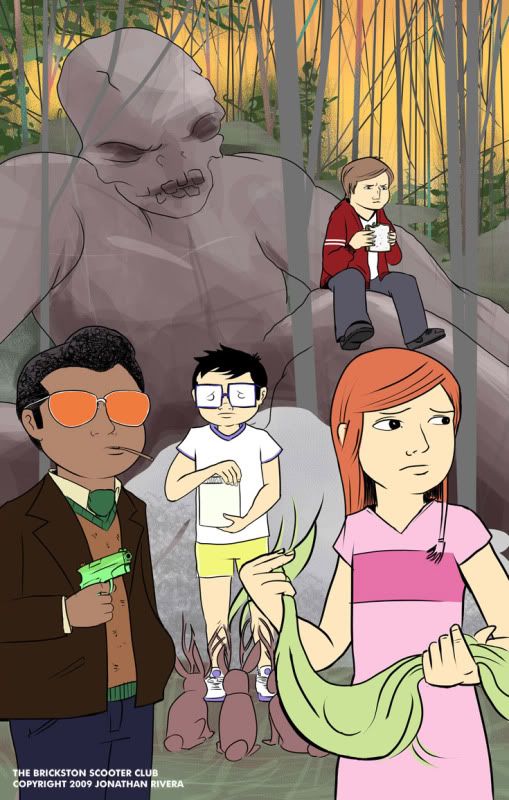 So with everything seemingly in place it's time to move on to the final step!
Step 5:  Finishing Up!  (Tones, Details, Shadows, Lighting, Effects, etc)
Final details are applied to the characters, as well as shadows and highlights.  The tree to the left of Riley has been shifted over because it was covering up an important part of the Golem's pose, which would have flattened the composition a bit.
At the end I overlayed a very low opacity layer of purple, which helps to create some dynamic light, while tying all of the different elements together at the end.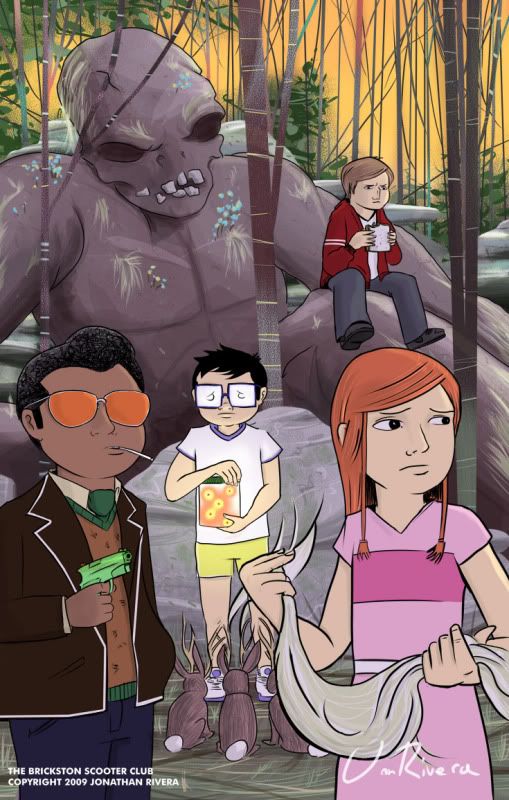 It looks like the kids have their work cut out for them now, so it's time to leave them alone to do their thing.  The most important thing, is that I really like the way that Riley fits in with his new design and color palette.
So now it's off to draw some more Brickston Scooter Club!
Be seeing you,
Jonathan
One Response to "How I Work…"
melbeecee Says:
March 24th, 2011 at 4:45 pm

fan-flipping-tastic! you're my hero! xoxoxoxo
Leave a Reply